Vince Jordan believes his company, Lobaki Inc., may be one of the first companies ever formed, literally, in virtual reality. Jordan was physically in Boulder, Colo., and his son, Josiah, was in New Zealand. Wearing headsets and holding controllers, they met on a virtual beach in cyberspace, where they signed their paperwork to form the corporation.
Oh … and they were both pandas.
"We wrote things on whiteboards floating on the beach, and we passed resolutions; we took snapshots, completed formal documents on the computer we needed for the company," Jordan recounts, smiling.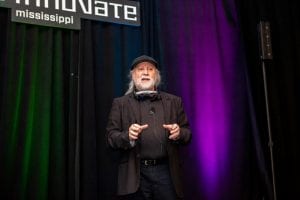 Jordan started the company in summer 2016 because, after a career of nearly 50 years in technology, he was finally seeing a viable market forming in the hardware and software that creates virtual reality, or VR, and augmented reality, or AR.
Lobaki Inc.'s goal as a for-profit corporation is to build the virtual-reality worlds that clients need for promising applications in health care, physical and mental therapy, and corporate, military and first-responder training—and that's just for starters.
Jordan notes that Innovate Mississippi has been helpful in getting the word out about Lobaki all over the state. "Innovate Mississippi has been great," Jordan says, "Everybody over there—Tony, Tasha, Janet—they have been absolutely fantastic. Tony has put us in front of prospective investors, we've spoken at all kinds of conferences. We ended up in Gulfport for economic development conventions down there. They've just been fabulous at promoting Lobaki and getting the word out."
Early customers in health care, for instance, use VR headsets with young patients who are getting vaccine shots, Jordan says. When the child can put on a headset and fight a dragon, suddenly the sting of a needle fits into gameplay and doesn't hurt as bad.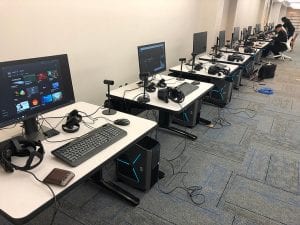 In spring 2019, Lobaki announced that it is working with the University of Mississippi Medical Center on a "sports enhancement" virtual-reality experience that is designed to decrease the risk of injury to athletes. By the end of summer 2019, Jordan says they will have installed VR labs in 17 different schools and private institutions in multiple states. Their first university-based VR lab is up and running at Jackson State University, and Jordan says Lobaki is talking to other Mississippi universities about setting up labs this year.
Jordan sees all sorts of benefits in using virtual reality for meditation, world travel, education and exploration. But training is a big one. He mentions frequently that virtual reality is realistic enough that even something like an industrial accident or a dangerous military training exercise—where you could get shot, fall, lose a limb or otherwise meet a grim fate—can actually "happen" to you in virtual reality.
Going through the virtually painful experience won't hurt or maim you, but "you'll remember it," he says. Lobaki has recently completed a pilot project with Entergy Mississippi to train employees for potentially dangerous scenarios like climbing power poles; they'll present the pilot later this year to Entergy management and discuss the potential for VR training in the future. 
With all of these opportunities comes a significant challenge: Teaching enough people to create the VR worlds.
"This industry is so early. We are with AR and VR where we were with web technology in 1993 or smartphones in 2000," Jordan said. "VR is at the bottom of the curve going up, but it's making huge inroads in industry training and health-care training. Walmart this year will train one million employees using VR; UPS trains new employees using VR; Bell Helicopter is using VR for new design; Boeing uses AR for their wiring in airplanes. There's not near enough talent available to do everything that industry, health care and the gaming world want to do in AR and VR."
Because of the lack of talent and the potential for an explosion in new opportunities in virtual reality over the next few years, Jordan took on another challenge with another organization—the Lobaki Foundation. His nonprofit arm is training students—from teenagers to young adults to mid-career adults and a few retirees—to create virtual worlds.
Jordan says that creating VR isn't exactly "coding"—it's more of a creative process that includes set design, character creation and storytelling. It can appeal to a wide range of potential VR and AR creators, including young creatives or mid-career adults.
"We're sharing this vision with (Mississippi Development Authority), MDHS, Innovate Mississippi and others. The universities are going 'Yes, why not?'," Jordan said. "Creating in this technology is very little about coding and more about crafting—the tools are good; they're elaborate. It's more like making movies than writing a program. This appeals to artists and musicians and all kinds of folks who just want to create. We have an opportunity to create an extensive workforce."
In late 2018, both sides of Lobaki— the foundation and corporation—moved its headquarters to Jackson. With support from the Mississippi Department of Human Services, Lobaki Foundation has set up a Jackson-based VR Academy in the MDHS building on State Street. It's part of MDHS's Families First initiative, which has a goal of creating career opportunities for Mississippi's underserved families.
Lobaki Inc.'s production facility will move to a permanent home in downtown Jackson this summer, along with the Extended Reality Laboratory, which is a collection of VR hardware and software that Jordan believes is the most comprehensive in the country. The lab is attracting attention from around the world; in November 2018, for instance, a group affiliated with Air University and Maxwell Air Force Base in Montgomery, Ala., came to explore the different ways VR could be used in training and simulation exercises.
Jordan says that the lab has already put Jackson on the map as a major city in the United States for the very new fields of VR and AR; he's heard numerous times that labs in Austin and Seattle don't compare to Lobaki's in Jackson. And he's hoping that cache can translate into recognition for the city and state, the creation of an economic cluster based on the VR/AR industry—meaning jobs and entrepreneurial opportunities for Mississippians.
Jordan, who still has his Colorado mobile number, didn't expect to be in Jackson, Miss., running a for-profit company and a nonprofit foundation. He's currently the executive director of the Lobaki Foundation, and he is putting together a group of executives to manage the organization, which has the potential to grow quickly as they "train the trainers" and continue developing the curriculum and setting up academies around the state.
While he says his role right now is to "create work for other people," Jordan says some of the real rewards of AR are the potential they have in physical and mental health. If he could pick one thing to work on, it would be some research that Mississippi State University is doing to see if VR can help children with autism; he says, anecdotally, he saw an autistic individual this past summer who was incredibly reserved and shy in real life, but who, when he discovered the Star Trek Enterprise VR game, walked boldly up to the Captain's Chair and took command of the ship, successfully running missions by communicating with other people in the game.
Jordan, with long gray hair flowing from under his signature driving cap, is a high-energy evangelist for the technology, recounting stories of kids with ADD calming down in VR; soccer players with concussions using VR for important eye exercises; distraction therapy for cancer and sickle cell patients; and using VR to make stationary cycling exciting and rewarding. 
And it's all just getting started.
"In my email signature, I quote Arthur C. Clarke, who famously said that 'any sufficiently advanced technology is indistinguishable from magic.' I've gotten excited about technology before, but I've never seen anything like this," he said.
OTHER STORIES ABOUT LOBAKI: