Lobaki Inc. has expanded its reach into Kentucky, where it has partnered with a school district to offer the state's first virtual reality academy, according to WYMT, a station in Hazard, Ky.
With this launch, the Jackson-based Lobaki now provides VR technology in 20 schools across six states. The five other states are Oklahoma, Utah, Illinois, Tennessee, and Mississippi.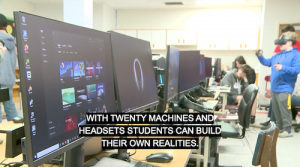 The Perry Central High School Virtual Reality Academy, launched Thursday, will prepare students for opportunities in the digital economy, where they will create, engineer, and develop VR applications. Students who complete the academy, which consists of four courses, will receive a Lobaki VR certification.
"This is the outgrowth of a shared belief that coal country kids don't just deserve the same opportunities that other kids around the country have. They deserve the best opportunity," said Adam Edelen, Vice-Chairman of Lobaki.
Edelen told WYMT he believes Eastern Kentucky must take the lead in finding innovative approaches to providing opportunities since the mountain community was hit hard by the decline of the coal industry.
This partnership is the beginning of the school district's focus on being more innovative, said Perry County Public Schools Superintendent Jonathan Jett.
"To have the first-ever virtual reality academy here in Perry County is really cool, and it's a great opportunity for our students," said Jett. "This is a certification that they could work while they're in college and try to off-set some of that debt that usually piles up."
Student ambassadors told reporters they welcome the new technology.
"I think it opens up doors for a ton of opportunities to do hands-on stuff that we really couldn't get to do anywhere else," said junior Kayce Adams.
We're thrilled to hear about this growth from a client company of Innovate Mississippi, and we thank WYMT and reporter Lacey Roberts for the great coverage!
See the full story by following this link: https://www.wymt.com/content/news/Perry-County-Public-Schools-launches-KYs-first-Virtual-Reality-Academy–565857562.html