How to Park at Innovate Mississippi
Most of the parking near the Innovate Mississippi office is on-street parking with City of Jackson meters. 
It's not always possible to park immediately in front of the building because some of the meters are reserved spaces ("bagged") and the others are often full on weekdays.
There is, however, metered parking on Amite Street west of North State Street (just north of our office) as well as on Capitol Street, which is just south of our office.
The easiest way to find a space is to drive west on Amite Street to the intersection of Amite and State. (You can turn west on Amite Street from Jefferson Street next to the Mississippi Fairgrounds, or you can turn west on Amite Street from North Street that runs in front of the Two Mississippi Museums.)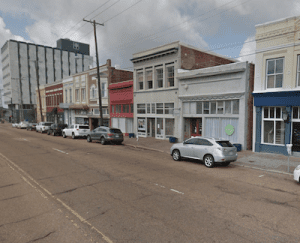 From the intersection of Amite and State you can survey parking spots in front of the building to see if there's an open meter. (See photo.) If not, look west on Amite Street past the intersection to see if there's metered parking available there. If you see an open meter, go through the intersection and park.
If no meter is open, you can turn left on State Street and then right on Capitol Street to check for more open meters.
If Capitol Street parking is full, make a right on President Street, and find street parking there, or you can enter the parking garage at President and Amite. (Also note that there are often spaces open just north of Amite on President Street.)
No money for the meter? If you're up for two-block stroll, you can often park for free on North Street across from the Two Museums, or you can park for free behind the Old Capitol Museum, with a parking entrance off Amite Street.