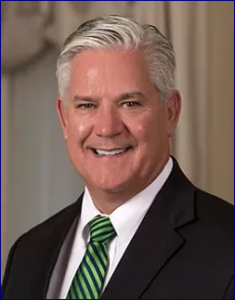 Justin Bernard O'Keefe says the Memorial Asset Protection Plan idea grew from his experience with families whose loved one has passed away. O'Keefe's family has been in the funeral business for over 150 years on the Gulf Coast of Mississippi. When you're in the funeral business for that long, you find out how vital a certified death certificate is—and why people need them.
"I started tracking families closely after a death," O'Keefe said. "I started honing down on 'What do you need a certified death certificate for? When can you use photocopies? When do you need beneficiary changes?'"
It turns out that people need death certificates to settle their loved ones' estates, close bank accounts, or sell timeshares. What he learned, over time, is that what many of the families O'Keefe was working with truly needed was financial planning advice.
"I was able to show them a way to get a better rate of return or consolidate their assets to keep them out of probate," O'Keefe said about the families that came to him seeking help.
Eventually, he had other people in the financial world encouraging him to patent the process.
The result is the Memorial Asset Protection Plan Network. O'Keefe has created a SAAS platform to help funeral homes connect grieving families with local financial planners who can help with end-of-life planning. The software features a secure CRM that enables the funeral home to collect information from the family and, with the expertise of vetted financial professionals, help them quickly tackle critical financial problems at a very emotional time.
MAPP is also a valuable tool in the "pre-need" phase when funeral homes plan ceremonies and celebrations ahead of time with families. While preplanning a funeral, discussing end-of-life financial issues can be a natural fit. Using MAPP, funeral homes can connect families to financial planners to help ensure their wills are up-to-date, assets are in good shape for distribution to heirs, and a person's desire to make charitable contributions with their life's work is planned for and honored.
O'Keefe said that the competitive advantage MAPP offers is the opportunity for funeral homes to modernize how they talk to and help families.
"We have a unique niche in the market for families that don't have a financial planner, accountant or lawyer," he said. "When we did the system, we uncovered all of these different needs."
O'Keefe found Innovate Mississippi when he searched online to find ways to raise funds to scale the business, which has done $15 million in sales in the past year. He says he's been working with CEO Tony Jeff and Investment Manager Lindsey Benefield, who have helped get him in touch with investors throughout the state. He said it was a fantastic response to his e-mail—especially since he was writing in blind and assumed he'd never hear from anybody.
"I was pleasantly surprised when they called back and asked to set up a meeting," he said, noting that Innovate's Tony Jeff, Lindsey Benefield, and Entrepreneurial Development Director Tasha Bibb have all helped connect him to critical resources.
Now, with the idea in front of the Mississippi Angel Network and additional contacts made with angel funders around that state, O'Keefe says he's poised to grow the MAPP Network quickly, offering its services via partnerships with funeral homes around the country.
Are you a Mississippi entrepreneur? Learn more about Innovate Mississippi's entrepreneur resources and fill out our intake form to get in touch with us!