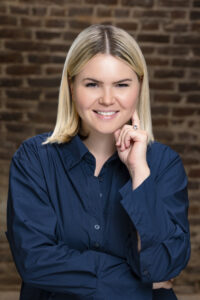 Lindsey Benefield serves as the Investment Manager for Innovate Mississippi, where her main focus is to identify and connect investors that support and foster the growth of the Mississippi entrepreneurship ecosystem. She manages capital opportunities through the Mississippi Seed Fund and works alongside Tony Jeff to build regional Angel Funds across the state, expanding founders access to capital.
Before joining Innovate Mississippi, Lindsey spent seven years in the CyberSecurity and Tech industries as an award-winning account executive specializing in SaaS Sustainable Growth with tech giants such as Dell, Blackboard & Avast.
In addition to her corporate sales experience, Lindsey has successfully launched a business and positioned herself as a leader in Junior Leagues across the country, most recently founding the JLC Entrepreneurs Social in Charlotte, NC.
She lived in Luxembourg City, Luxembourg for three years with her family and was an active community member of the American Women's Club of Luxembourg.
Lindsey holds a bachelor's degree in business administration from Ball State University.
Lindsey resides in Jackson with her husband, Daniel, their son, Walton, and daughter, Rosemary.