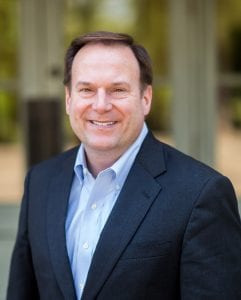 Tony Jeff serves as the president and CEO for Innovate Mississippi and is a technology evangelist who speaks regularly on emerging trends and strategies in technology and innovation commercialization.
Tony has overseen the coaching of more than 1,200 entrepreneurial ventures and consulted with companies that have successfully raised more than $170 million in private equity financing.
Prior to joining Innovate Mississippi, Tony had corporate experience leading teams in finance, sales, engineering and operations. While working for Florida Power & Light, General Motors and Delphi Automotive Systems, Tony successfully led a variety of cross-disciplinary teams in finance and sales for a multi-billion dollar product line. He also successfully negotiated new business contracts in excess of $1 billion. Formerly the youngest senior manager in the $4.3 billion, 140,000 employee division, Tony left that position in 2002 to return to his home state of Mississippi and accept a position with Innovate Mississippi.
In addition to his corporate experience, Tony has started two businesses – one around a patent he co-invented and successfully brought to market. He was also a student of Japanese language and a member of the Foreign Teaching Staff of AEON Corporation in Tokyo, Japan.
Tony holds a Bachelor of Science in industrial engineering from Mississippi State University. He also holds an MBA from the Kellogg School of Management and a Masters of Engineering from the McCormick School of Engineering at Northwestern University through the Masters of Management and Manufacturing Program.
Tony is married to the former Sheila Kalka, a family medicine physician. They reside in Madison with their sons, James and Joshua.