With the highest attendance we've had in years, the Accelerate 2019 Conference on Technology Innovation in Mississippi was a huge success for us at Innovate Mississippi and our partners and sponsors.
The two-day event at the Westin in Jackson, Miss., launched after lunch on Tuesday, November 12th, with the Company and Investor Spotlight.
Now in its second year as a part of the Accelerate conference, the Spotlight showcased Mississippi startup companies offering their pitches, interspersed with investor panels that discussed raising money and attracting investors in the current entrepreneurial climate.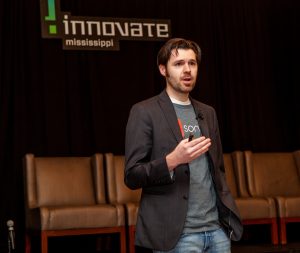 The Company and Investor Spotlight kicked off with representatives from the U.S. Patent and Trademark office and featured talks by successful founders, service providers and investors in Mississippi's innovation ecosystem.
Startup founders pitched their companies in quick succession, with offerings ranging from healthcare and financial-technology startups to tools for improving academic environments and virtual reality development.
On Tuesday evening, sponsors and speakers gathered for a cocktail reception and some early-evening networking as sponsors finished setting up their Innovation Alley booths. Entertainment was, appropriately enough, provided by Jeffrey Rupp, the multi-talented guitar-playing director of outreach for the Mississippi State University College of Business.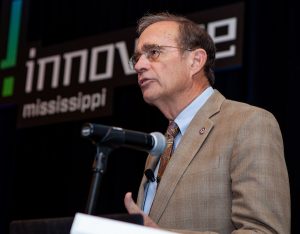 Wednesday kicked off with a breakfast keynote by Lieutenant Governor-elect Delbert Hosemann, who offered a look at the economy he's studied and promoted as Mississippi Secretary of State.
Hosemann noted that while the state's economy is close to full employment, the goal now is two-fold: to increase participation in the labor market, and to encourage high school graduates into higher-paying jobs.
Hosemann specifically encouraged the companies participating at Accelerate 2019 to reach out to high-schoolers with internship and mentorship opportunities, and he shouted out programs like the Mississippi Coding Academies for giving students from under-privileged circumstances and opportunity for higher-paying work.
The second half of the breakfast program was a discussion of Web security issues; moderator Joel Lawhead guided an expert panel through a wide range of cybersecurity issues and concerns, ranging from Mississippi higher education challenges to those faced by the Mississippi Band of Choctaw Indians.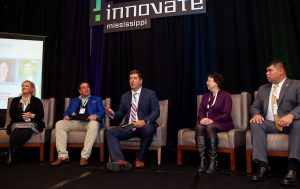 The group emphasized the systems that need to be in place to avoid "phishing" and other human-error (or social engineering) attacks that can lead to data breaches or even monetary loss if your company isn't warned and trained to avoid those scams.
After breakfast and a networking break, Accelerate 2019 broke into two tracks—"Block and Tackle" and "Big Ideas." The Block and Tackle track featured six talks on different aspects of the startup journey, from customer validation (and pivoting based on customer feedback) to building your customer base, fundraising, marketing and encouraging your team.
Hagan Walker and Anna Barker of Vibe LLC, for instance, told the story of their company's pivot from one successful product to another. Initially, they had success with Glo Cubes, which act as ice cubes that light up when they contact water. But they decided to prioritize another product, Glo Pals, which also light up when placed in water, but are intended as children's toys for bathtime. They've found the products are particularly helpful for autistic kids who use the toys to help deal with the sensory overload of bath time. After switching their focus to Glo Pals, Vibe is experiencing high growth. But the decision to change focus was a stressful one.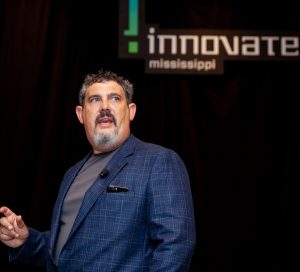 On the second track, "Big Ideas," three visionary entrepreneurs offered their thoughts. Entrepreneur Jeremy Hirsch told his story of fast growth for Spartan Mosquito, the Hattiesburg-based startup that's grown to over $100 million in revenue in a two-year span. Joe Stradinger of EdgeTheory talked about combining human and machine intelligence to improve marketing outcomes. Dr. Nashlie Sephus spoke about her exciting work with Amazon's "Fairness in Artificial Intelligence" team, and how they're working to make sure AI isn't discriminatory or problematic for human rights.
While the content tracks were going on, entrepreneurs met with mentors and service providers in the VIP Investor and Mentor Lounge. The Lounge enables startup CEOs to bounce ideas off VIPs Bill Rayburn and Lois Lovelady of mTrade; Jan and Lawrence Farrington; and Ben Walton, president of the Mississippi Angel Fund, L.P. 
Simultaneously, entrepreneurs could meet with mentors—specialists in marketing, legal services and accounting—to get a quick evaluation of their current systems and challenges.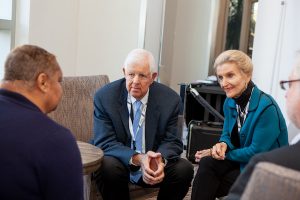 After another opportunity to network, drink more coffee and visit Innovation Alley, everyone moved into the main gallery for the luncheon keynote—a "fireside chat" between Mississippi's Jim Barksdale (venture capitalist and former CEO of Netscape) and Steve Case, the  co-founder and former CEO of America Online, and current chairman of the Case Foundation.
Barksdale and Case are long-time friends (AOL acquired Netscape in 1999) and their conversation ranged from talking about the "Dot Com" bubble at the end of the 20th century to what Case calls the "Third Wave." Case believes that the next phase of growth in technology innovation will come from updating older industry sectors, mainly by connecting everyday devices to the Internet. At the same time, he believes we'll see the tech industry decentralize so that more of those startup companies succeed in places such as Mississippi.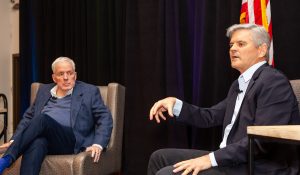 Case is the founder of "Rise of the Rest," a bus tour—and seed fund—that visits locales and companies outside of Silicon Alley, Boston and New York to find promising companies and industries that are likely to be successful in the third wave.
When Barksdale pressed Case to return to Mississippi on a future Rise of the Rest tour, Case joked "I'm here now!"
Case said that Mississippi is well poised for high-tech growth, as indicated by impressive attendance at the Accelerate 2019 conference and the quality of companies Case had been able to meet with during his short trip to Jackson.
"We're thrilled at the turnout and feel, now in its 20th year, that the Accelerate conference has exceeded expectations," said Tony Jeff, president and CEO of Innovate Mississippi. "But it's really an indication of the growth and opportunities we have for innovative startups in the state. We have a fantastic entrepreneurial ecosystem that is only continuing to grow and support startup culture in Mississippi. Innovate Mississippi is thrilled to have a role in it, and we're looking forward to an exciting new year of innovation in 2020."