When Keith Jasper was a kid, he decided, despite being a native Mississippian, that his favorite professional football team was the Buffalo Bills. A few key Mississippi college football players were landing at the Bills around that time, when Jasper was 8 and 9 years old, and he got hooked. He found that getting a daily fix of Buffalo Bills sports radio in the Magnolia State was tough.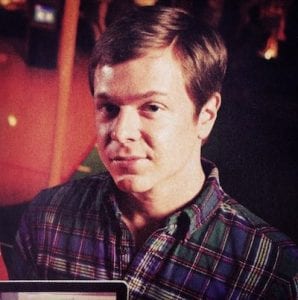 By the time he reached his teens, he had built several Buffalo Bills websites, and had turned one of them into sort of a business—he sold advertising and subscriptions. Writers from the New York Times and AP appeared on his site—he learned a lot about technology in the mid-to-late 1990s working on those projects.
After a stint as a contractor working to find popular shows for
Sirius
satellite radio—he helped build some popular programs such as a body-building show and a scuba-diving show—he began to realize how difficult it was to get consistent, in-depth audio content about your favorite sports teams. At the time he thought of it as "Internet radio"—and decided it needed to be improved— so he lit off on his own to build a company, 
VSporto
, that created "channels" packed with content for different sports teams.
"That's actually when
Innovate Mississippi
came in to the picture," Jasper said, on the phone from California. "I was living with a roommate in Madison, and had torn up the dining room to turn it into an office and figure out how to launch the company. Innovate was called the Mississippi Technology Alliance then; I came across their website and saw they were a free resource provided by the state. I don't think we'd be where we are today without them."
Jasper says he felt out of place in his first meeting—he knew what he wanted to do, but had almost no idea how to do it. "
Tony (Jeff)
kind of ripped me to shreds," Jasper said, laughing, and pointing out that it was mostly because of smart questions he just hadn't thought of before. "I walked in with a three-page business plan and he said 'three pages?' It was a quick learning experience."
Jasper said the experience remained very positive after that—he was constantly challenged on the things required to start a company, and it took almost two years to really get launched. He notes that Innovate Mississippi was instrumental in helping VSporto secure its first round of capital, and Jasper says he still returns to the Innovate Mississippi team as mentors to discuss new ideas.
In 2011, the company built a test app, inspired somewhat by the rapid success of the Pandora music streaming app on the iPhone. The test app would play a feed of old Mississippi State college football games when you pressed a start button on a blank white screen. Being able to stream audio over a phone's data connection was a big deal.
"That took a long time. Once we were able to successfully do that, it changed our thinking a lot. I would drive around Jackson listening to old football games and show my friends and family," Jasper said.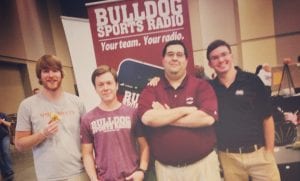 With an iPhone app dedicated to Mississippi State sports, the company launched in 2011—and the app soon reached the Top 30 of all iPhone sports apps. Given that there are 120 college FBS teams in the NCAA, and Mississippi State ranks about 50th in fanbase, it was a remarkable achievement to crack the Top 30.
"The demand was there. We launched Ole Miss pretty quickly after that—within a month and a half—and we had a lot of people asking for Arkansas and Auburn," Jasper said. "Our Alabama podcast app ended up ranked ahead of BleacherReport, which sold for just under $200 million—in terms of sports media that's consider the second highest exit behind ESPN being sold to Disney."
Jasper soon moved to company to San Francisco, where venture capital firms were interested in supporting the company and providing expertise and office space. He's been able to network with the BleacherReport founders, connect with talented developers and bring out new versions of the app, produce new content and build many more channels.
Most of all, Jasper says he really feels like VSporto, even as a company that came out of Mississippi, can compete on a big stage.
"In VSporto's case, our passion is really about solving or fixing media. The media content world and the media rights game is so convoluted and tangled; it's not efficient or simple," Jasper said. "That's our real purpose—even as we're building these channels, they're podcast channels around an individual team. We've been able to build a sizable audience."
VSporto's Mississippi State and Ole Miss channels reach 500,000 monthly listeners during football season; the company recently produced
"Now What?"
a podcast staring former NFL running back Arian Foster that shot to #1 on Apple's sports podcast list; the eclectic sports show has a devoted audience, and Jasper has enjoyed worked on it personally.
VSporto has another show debuting soon called "The Legends" where former NFL star Tiki Barber interviews legendary sports figures who are notable for a variety of reasons—Jon Daly, Nick Foley, Darrell Strawberry, Reggie Bush, among others.
Jasper thinks the next frontier of podcast revenue generation is local—selling local ads on niche podcasts. He's had success selling on the national level into his SEC and Mississippi-driven channels, and expects to see more growth in that area.
He's also very bullish on Mississippi as a hub of podcasting. "Outside of New York—maybe San Francisco, LA, Atlanta—Mississippi is interesting because of the talent. Beau York (of
Podastery Studios
in Jackson) is super-talented. There are other podcasts sprouting up around Jackson; it stands out."