Tasha Bibb, entrepreneurial development director for Innovate Mississippi, was the special presenter of the STEM Entrepreneurship workshop presented by Tougaloo College. The workshop, attended by 50 Summer Science and Engineering Program (SSEP) students, took place on Monday, June 24, 2019, and is a new addition to the SSEP program.
Bibb's presentation covered the elements required to start and sustain a successful business. The students discussed a variety of business ideas including: becoming an obstetrician-gynecologist and owning a practice to provide services to homeless and low-wealth women; creating attractive fashion for plus-sized teenagers; and developing and manufacturing non-toxic makeup for women.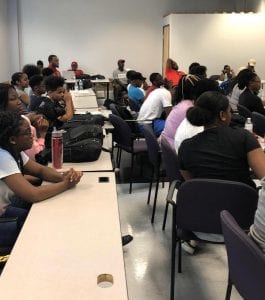 Bibb walked the students—future potential business owners—through the entrepreneurial basics of recognizing a problem and then producing a product or solution to solve that problem. Each business idea the students presented sprang from a problem they have experienced.
Innovate Mississippi has a significant economic impact on the state. For 18 years, they've worked with over 1,300 new companies resulting in the creation of over 3200 jobs, and connected them with over $176 million in private investment.
Bibb manages the entrepreneurial development for more than 100 companies per year. She has built an impressive array of skills and has played an instrumental role in the implementation of several projects.
Innovate Mississippi sponsors several events annually to promote new business development and growth. Bibb invited the students to examine Innovate Mississippi's services and participate in their business promotion events including the Mississippi New Venture Challenge Pitch Competition, where individuals pitch their ideas and concepts to a panel of judges with the chance to earn over $25,000 in cash and in-kind awards.
Bibb also agreed to partner with Tougaloo College to spur innovation, entrepreneurship and new business generation for Tougaloo College and other students of Mississippi's historically-black colleges and universities.
Since 1964, Tougaloo College has conducted the SSEP for promising high school students. SSEP alumni have excelled academically, earning doctorate, medical, legal and dental degrees, and reaching senior ranks in the military. SSEP alumni received their baccalaureate education at Tougaloo College and at other institutions of higher learning.
The SSEP curriculum covers all the sciences, technology, engineering and math. This year, the college added an entrepreneurship component to the curriculum to give students the information on what it takes to start a new business in one of the STEM disciplines.
This workshop was made possible through a grant from the Department of Commerce Minority Business Development Agency.