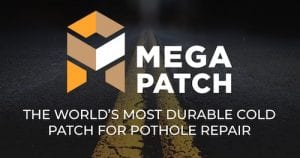 MegaPatch LLC, a Madison, Miss., company that is producing "the world's most durable cold patch for pothole repair," is the brainchild of Jack Wilson, who has held the patent on his Megapatch pothole repair solution for over 20 years.
Potholes are the bane of every driver—and every civic transportation administrator. Hitting one in your car can cause an uncomfortable bounce, knock your car out of alignment, cause a tire to blow, or in some cases cause a serious accident. It is estimated by the American Automobile Association that the cost of damage suffered from potholes in the U.S. is $3 billion a year and some 16 million drivers are involved.
Traditionally, the pothole repair solution for an asphalt pothole is to pour more asphalt into the pothole. But this is less than ideal, as the new asphalt does not seal well with the old asphalt. That allows water into the pothole, which erodes the patch from within.
Pothole repair is also difficult in the winter, when rain followed by freezing temperatures can crack up asphalt.
"Some potholes are filled eight or nine times during the winter because they don't make asphalt in the winter and use cheaper material to temporarily fill the pothole," Wilson said, but MegaPatch is revolutionary because it can be applied anytime and is a permanent fix to the pothole.
"That's the business we are after," he said.
MegaPatch LLC was in 13 states last year demonstrating its product. Testing is being conducted by several major universities and the U.S. Army Corps of Engineers. The testing is a slow process, as the material must go through several freeze and thaw cycles to ensure that a pothole will stay securely filled through weather changes.
"Innovate Mississippi gave us some really good information, and they worked hard with us. I didn't want just an investor; I needed help," Wilson adds. He remains in charge of research and development, but the company now has a president and some staff who are establishing contacts throughout the U.S.
When asked what's next for Wilson, he said, "Sell the rest of the company! I'm 82 years old, and I'm about ready to stop."
While we think it's unlikely Wilson could stop if he wanted to, if his innovative product continues to perform as it has, the prospect of a lucrative exit looks promising.
RELATED STORIES: