MetaGames, founded by MSU graduate Ryan Gilbrech, is building a video game company aimed at the lucrative competitive gaming market, with funding from the Mississippi Seed Fund.
Not long after graduating from Mississippi State University and entering the workforce with a bachelor's degree in bioengineering, Ryan Gilbrech was lamenting to his parents the fact that no one seemed willing to reimagine and update Nintendo's "Super Smash Bros.," a 19-year-old franchise with only four games to its name. Gilbrech has been a competitive gamer in "Smash Bros." for 11 years, and he's the main moderator of its 400,000-user Reddit channel.
"Why don't you do it," his father said. Gilbrech thought about it and—despite having limited programming experience and no idea how to build a game—he jumped in.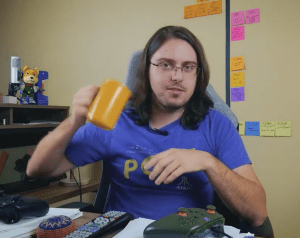 He quit his job, enrolled in Mississippi State's MBA program and made himself known at the MSU Entrepreneur Center. After studying finance and project management, he set out on a two-year adventure to build his prototype. In August 2017, he pitched the game of the Bulldog Angel Network. He was the network's first pitch, and a mentee of network president Wade Patterson, who is also a gamer. The result was a $150,000 seed investment.
Later that fall, he pitched Innovate Mississippi's Mississippi Seed Fund, which resulted in a two-thirds match of the Bulldog investment. With a $250,000 budget, he's hired designers, programmers and animators, pulling in freelancers from around the world. He credits MSU with teaching him the tools to help with project management of his far-flung team.
Now in 2019, Gilbrech has releases some early video tutorials showing "Dragon Slayers" on his YouTube channel, and he plans to get things rolling in August of 2019 with a Kickstarter campaign to build hype and encourage people to pre-purchase the game.
His big dream? He'd love to see his game make it to competitive eSports contests in national and international arenas.