Startup Weekend 2018 was a stellar success, with over 40 people participating on nine teams that presented on Sunday night after the grueling 54-hour process of choosing a product, forming a team and testing the ideas. The event took place April 20-22, 2018 at the CoalesceJXN co-working space in downtown Jackson.
Mike Morgan, a finance professor at University of Southern Mississippi who is the former president of Bomgar Corporation, made it clear to the group how impressed the judges were with all of the high-quality presentations.
"A lot of y'all are still in school, some of you are techies—standing up in front of a big crowd, presenting your idea and trying to convince people it's a good idea is hard to do, and you all did a really good job," Morgan said.
"But there can only be one winner," he continued, before going on to announce the first place winner, GiveCherry.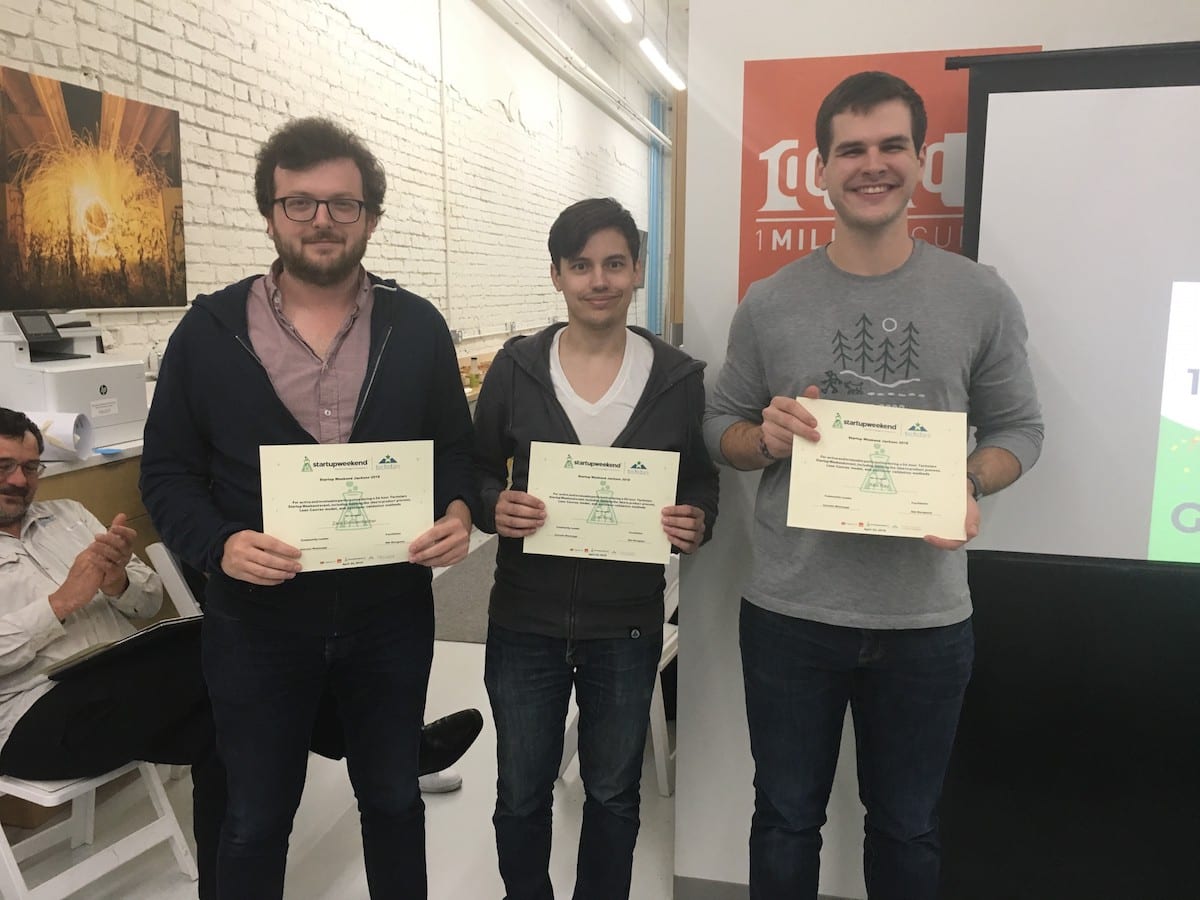 GiveCherry is an online platform designed to help Millennial (and other) donors automatically make donations to their selected charities. GiveCherry's team included Zack Grossenbacher, Levi King, Alex Ray, Ryan Hopson (not pictured) and Che Fuh (not pictured).
The Startup Weekend judges felt that GiveCherry presented their solution well, handled objections successfully, offered a compelling prototype website and performed the required customer research. Ultimately, the judges felt the project was "doable"—something this team could continue to work on past Startup Weekend and ultimately accomplish.
Second place went to Sole Child, a startup aimed at making it easier for young parents to order shoes for their kids based on a mobile app that could accurately size a child's feet and then reach out to drop-shippers for affordable distribution.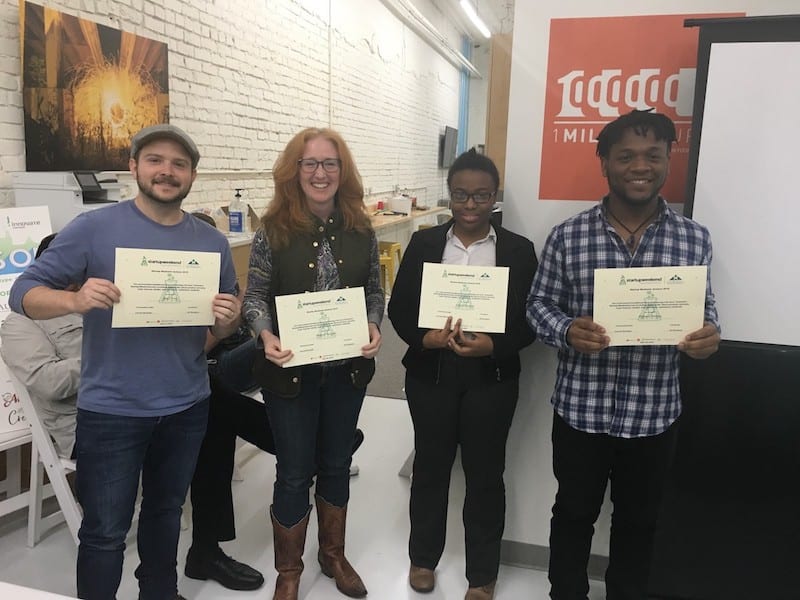 The judges were particularly impressed with the company's young CEO, Christine Bernard, who fielded questioned adroitly, including from expert judge Nashlie Sephus, the Chief Technology Officer of the Amazon/A9 visual search team. (Pictured: Beau York, Rebecca Reynolds, Christine Bernard and Ahmarey Stimley.)
Third place winner, Vibra Muse, impressed the judges by created a working prototype of their device, which is designed to help hearing-impaired people enjoy—and even perform—music, despite not being able to hear it.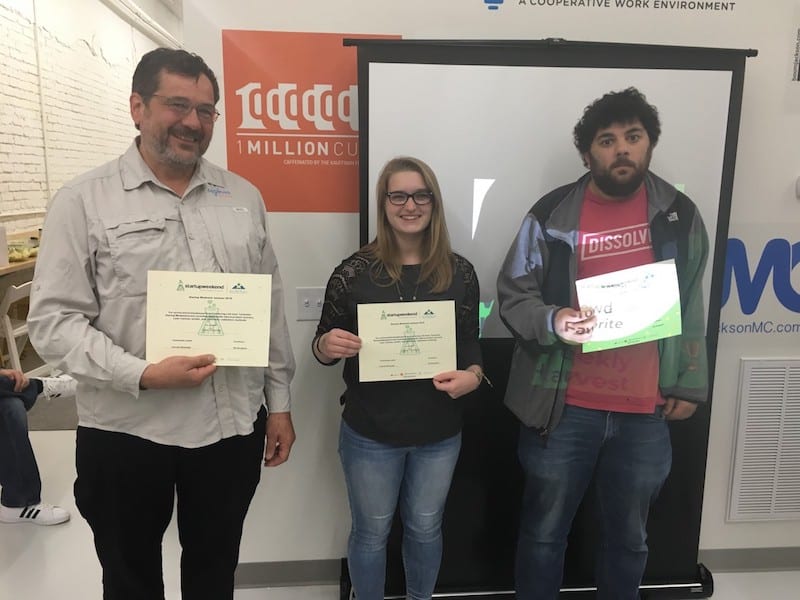 (Pictured: Van Gravlee, Logan Courtney, Robert Gravlee. Not pictured: Joey Reddix, Michael Groves.)
Rhizio received the Honorable Mention from the judges, as well as the informal designation of "the team most likely to be hired for six-figure jobs before the evening was out."
This team brought a very coder-driven solution to the idea of that too much of the Internet is funded by advertising; apps could offer background computing processes to "big data" problems, turning mobile devices into distributed computing nodes. This excess computing power could be sold to projects that need it, thus funding apps without annoying ads.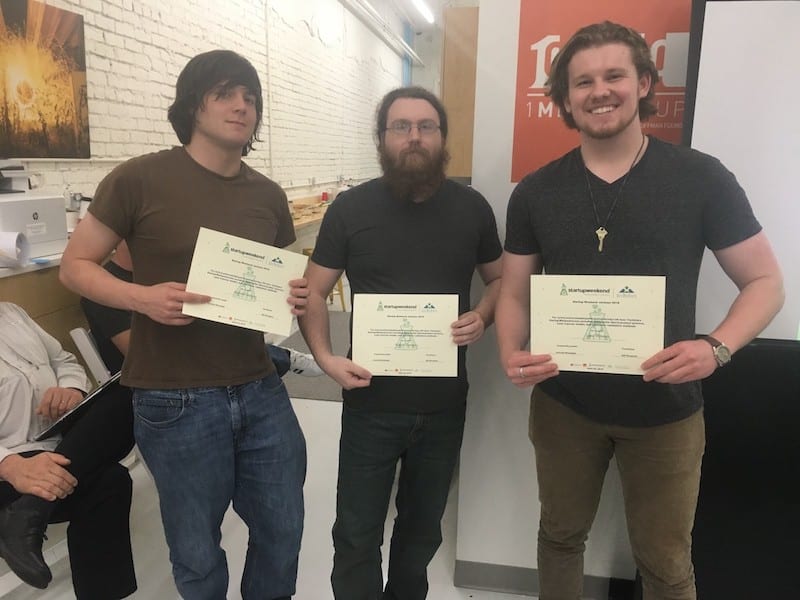 Pictured are Nicholas Mahony, Robert Granberry and Lake Williams.
The Crowd Favorite for Startup Weekend Jackson 2018 was Weekly Harvest, a company that aims to re-invent the farmer-to-consumer relationship through a direct delivery system of fresh, local produce.
Pictured: DJ Baker, Jeffrey Thames, Justin Sanders and Katrina Williams.
"I have traveled to a lot of cities, and I really, really enjoyed Jackson," said Sibi Murugesan, program director at gener8tor, a startup accelerator with locations in Wisconsin and Minneapolis, Minnesota.
Murugesan facilitated Startup Weekend Jackson 2018. As he wrapped up his remarks, he encouraged the groups to continue working on their companies—or working toward entrepreneurial ideas in general.
He emphasized that quality team members matter more than a single idea for a startup company.
"It's not about how many times you get punched, it's about how many times you get up," Murugesan said. "It's 'teams over ideas'… as an investor myself… I'm investing in the team; I put my money in a smart team."