The Mississippi Coding Academies is one of 10 finalists in the XPRIZE "Rapid Reskilling" competition and is the only representative in the competition from the United States' heartland. All other finalists are from a U.S. coast or international city.
The 10 Qualified Teams are:
Alelo

, Los Angeles, California, USA

Dignity of Work

, Spokane, Washington, USA

Pragya

, Cambridge, Massachusetts, USA

Practera

, Sydney, Australia

WEKIT ECS

, Dubin, Ireland

VITAL

, Boston, Massachusetts, USA

Mississippi Coding Academies

, Jackson, Mississippi, USA

SHIFA

, San Diego, California, USA

HireMEE, Bengaluru, India

TEAM RE

, New York City, New York, USA
Called "The Enhanced Mississippi Model for EdTech," the Mississippi Coding Academies model seeks to use the mix of coder training and immersion in a simulated work environment to rapidly prepare participants to move from lower-skill positions into high tech as full-stack coders.
The Rapid Reskilling competition encourages teams to "demonstrate the effectiveness of rapid training and reskilling solutions for individuals most vulnerable to employment loss in the United States," according to the press release.
MCA will now compete for a $1.5 million grand prize; two runners up with split $500,000. 
Mississippi Coding Academies Opens South Jackson Campus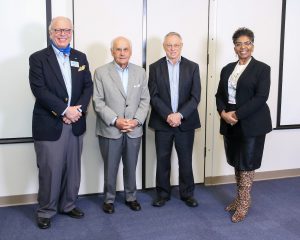 Along with the XPRIZE news comes further expansion in Mississippi—MCA in April launched a new South Jackson campus for the Mississippi Coding Academies, which MCA will manage in partnership with DSC Training Academy. The new location makes it easier for coders in South Jackson and surrounding areas to attend the 11-month program that is tuition-free for the coders.
"Our goal is to reach high school graduates who are motivated to become coders and enter a high-tech career, making $40,000 or more per year to start," said Rich Sun, director of the Jackson campuses. "The comfort and convenience of this facility should make it easier for us to train more young coders in the capital city."
The new South Jackson coding campus is part of DSC Training Academy's 4,300-square-foot complex with two kitchens, lounge and meeting spaces. The WiFi-enabled and handicapped-accessible facility sits on seven acres.
"For 26 years, DSC has been in workforce development and reskilling, providing higher-paying careers to Jackson and the state of Mississippi," said Willie Jones, CEO of DSC Training Academy. "I look forward to getting more women into coding. From our campus, we hope to help both young graduates and mid-career adults move into higher-paying jobs."
MCA is recruiting for both campuses now, with the 2021-2022 class onboarding this summer and starting daily classes in August. Potential coders can apply at www.mscoding.org. Informational webinars will be held throughout the spring—watch facebook.com/MSCoding/ for details.