WAPT got great footage and interviews to help us get the word out about Accelerate 2019, with a focus on entrepreneurship and job creation in the state of Mississippi.
Despite sub-freezing morning temperatures, we were thrilled at the capacity attendance and vibrant energy at Accelerate 2019 at the Westin Jackson this year.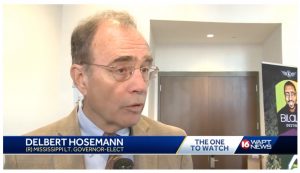 Accelerate 2019 launched with a breakfast keynote by Lieutenant Governor-elect Delbert Hosemann, who emphasized the need to grow the job market participation rate in Mississippi, given that unemployment for those in the workforce is at extremely low levels.
Hosemann was followed by a CyberSecurity panel that took a look at challenges ranging from security for children and seniors to corporate, institutional, state government and tribal security for the Mississippi Band of Choctaw Indians.
The event then split into two content tracks, along with a bustling Innovation Alley filled with vendors and demonstrations from participating companies.
The luncheon keynote was an engaging discussion between America Online co-founder and venture capitalist Steve Case and his old friend, Mississippi-based Jim Barksdale, also a venture capitalist and the former CEO of Netscape. That discussion was moderated by Mayo Flint, president of AT&T Mississippi.
WAPT was there to capture it all, speaking with Hosemann, a number of participants and some of the vendors in Innovation Alley.
We're excited by the coverage and thankful to WAPT and reporter Shaleeka Powell for shining a light on this celebration of opportunity and growth in Mississippi!
See the full story here: https://www.wapt.com/article/entrepreneurs-innovators-drawn-to-tech-conference/29789223