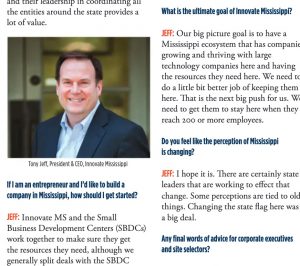 November 2021 isn't just the month when our successful Accelerate 2021 conference took place—it's also the month that Site Selection magazine chose to interview Innovate Mississippi's President and CEO Tony Jeff. Tony spoke with the magazine to tell them more about what Innovate Mississippi does and paint the picture of Mississippi's potential to encourage high-growth technology companies.
"Our focus is always on getting early-stage companies 'investor ready' and then get them funded to fuel their growth," he told Site Selection's Ron Starner. "We are in the process of organizing our first statewide accelerator cohort for 2022 through partners in all regions of the state."
When Starner asked what Mississippi's "best-kept secret" is, Tony revealed three: fiber Internet in many communities (making "work-from-anywhere" a genuine possibility), the Stennis Space Center and its ecosystem, and "blue-tech" growth on Mississippi's Gulf Coast.
Starner also name-checked some great Mississippi startups that we've been thrilled to work with—Lobaki, Citizen Health, Compete Running, and WonderWindow all got a mention in the piece, which also points out that Mississippi offers advantages in energy prices and transportation for companies considering the state.
We thank reporter Ron Starner and Site Selection magazine for the wonderful collection of stories on Mississippi. Read the Mississippi Spotlight stories starting on Page 178.