Compete Running is an Oxford, Miss.-based startup that has launched an app to help runners analyze their data and score their runs, giving them a "number" that's handy for training, virtual races and more.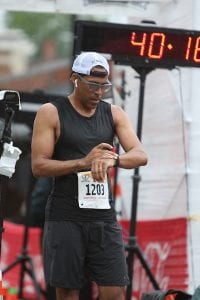 Marvin King likes spreadsheets so much that he found himself using them not just in his day job as a social scientist but also in his life-long pastime: running.
As a runner, running coach, and race director, King would plug his running data into spreadsheets and analyze the results. When he did, he started to see how different weather conditions, terrain changes, and other variables affected his performance. He could run a 5K faster in certain conditions, but slower given a combination of elevation and weather, and so on.
Not only did he find that exciting, but so did other runners he shared the data with, and he realized he had a potential product that runners and race directors might find appealing.
"I just started showing off my running data, and because I have this background in all aspects of running, it dawned on me over time how to make good use of this data in a way that would be commercially viable," King said.
So what does Compete Running do? By taking in runner data—distance run, pace, elevation gain—and then adding in the temperature, wind speed, dewpoint, and altitude that was happening during that run, King's software grades each runner on a scale of 1 to 100. King describes it as similar to a golfer's handicap; by comparing all of these metrics, a runner can get a better sense of how competent and advanced he or she is from their Compete Running number.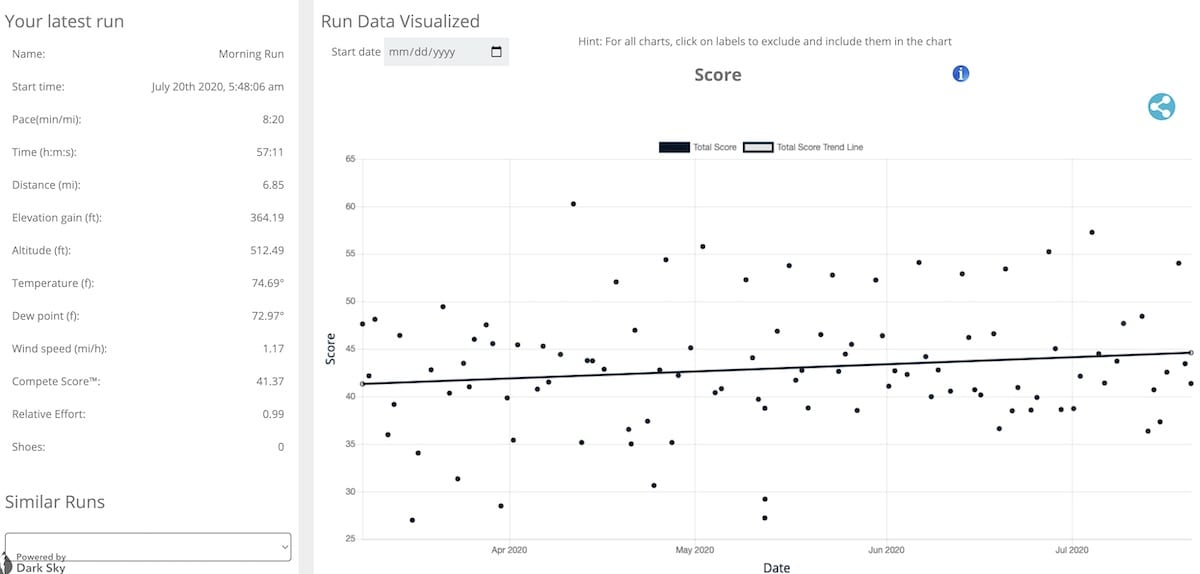 "You can do a lot with that number," King said, noting that it would be attractive to coaches and race directors. "Some coaches work with beginners, some with intermediate or advanced runners. This can help with the 'matchmaking' process." Some race directors offer races geared at beginners or a tough course geared at elite runners; access to this public data would make marketing to different levels of runners easier.
A runner's number could play into how retail marketers interact with him or her—knowing someone is intermediate vs. elite could help a shoe or apparel company get a better idea of how to reach out with a targeted marketing message.
And, of course, having that data helps the individual runner assess each run and look for room to improve. After a "slow" 5K, for instance, runners can check the environmental factors and figure out what might have affected their pace.
In the COVID-19 era, Compete Running can be particularly handy for virtual races by genuinely making them competitive. Many virtual races only acknowledge a runner's participation: you turn in your time and get a t-shirt, usually while supporting a charitable cause. Compete Running's data can help make the measurements more robust and competitive, rewarding people for running the best times under similar conditions.
Right now Compete Running has a Web app that works in any Chrome browser and a basic iOS app. King is working with Innovate Mississippi on his business plan and pitch for investors. "They've been super helpful," he said of Tony Jeff and Tasha Bibb. "Every time I talk to them, I think, 'this must be what getting an MBA is like'—it's been a class on developing the business plan."
He says that he's working through the questions investors might ask. His goal is to answer, with confidence and transparency, anything a potential investor might throw at him.
The Compete Running app will initially be free for individual users, with an "enterprise" version available for race timing-companies or race organizers who want to use it for specific purposes. With enough data from runners, King says he plans future machine-learning features that can help, say, a 4-hour marathon runner to train to become a 3.5-hour marathon runner by having the app look at the data of other 3.5-hour marathoners and recommend a training regimen.
King says his biggest challenge right now is being patient with the development process, mainly because he's bootstrapping his startup.
"I can't afford to have my developers have the same sense of urgency that I have—because I can't pay them enough to have the same sense of urgency that I have," he said, laughing. "The struggle is that you're on someone else's schedule until you have the funding to do everything at the pace you want to do it."