Like most "overnight success stories" CampusKnot's is about five years running—although the company just began expanding to states neighboring Mississippi in late 2017, in December 2017 they closed $500,000 of startup funding, which took their total private investment raised as a company to $700,000. CampusKnot also has a STEP grant pending from the Mississippi Development Authority (for international expansion) and has been invited to apply in 2018 for $100,000 through the Mississippi Seed Fund administered by Innovate Mississippi.
Rahul Gopal, co-founder and CEO of U.S. operations, says this funding now gives them the ability to scale a company his team has been working on for years.
"Five years ago, two friends of mine came across a fundamental problem—lack of engagement in the college classroom and lack of engagement across campus as well," Gopal said. "There's a huge gap between students and professors and between students and other students. That's the problem we want to solve."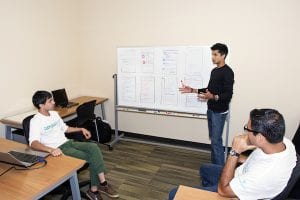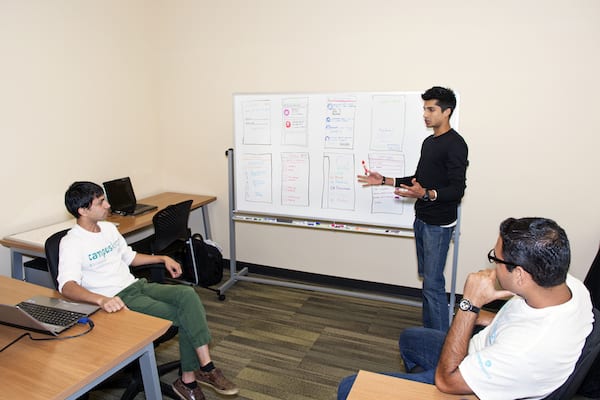 Gopal and his co-founders, Hiten Patel and Perceus Mody, initially set out to connect students on campus, but found that CampusKnot wasn't getting the sign-ups they needed on their "minimum viable product" by appealing directly to students. So they pivoted and focused on getting professors engaged, instead. The result was an evolution of their product into a "classroom engagement system."
"Part of the tool is like GroupMe—professors can create their own groups with students using .edu e-mail addresses," Gopal said. "They can submit live polls, there's a feed for discussions, announcements and so on. It gets rid of e-mail. There's also Linkedin-style profiles and search. Planners sync with the group to send reminders; documents can be shared with group members."
Gopal says that CampusKnot purposefully resembles familiar social media and cloud tools—LinkedIn, GroupMe, Google Drive—so that there's a relatively shallow learning curve for professors and students. The goal is to be easy for professors to adopt (even if they initially require some one-on-one sales effort) and popular with students so that, eventually, entire campuses will license the tool and sales can be more institutional. Gopal notes that while the tool works fine for small classes, it's invaluable for large survey classes where interaction between the professors and students tends to be limited.
From 2012-2015, Gopal says their team spent a lot of time in research and development, leaning on the Mississippi State eCenter for survival. They also got advice from Innovate Mississippi in that timeframe and opportunities to pitch in contests and conferences. In 2015, CampusKnot closed a $100,000 investment from a private investor. That enabled them to prove the concept locally and then move their sales from Mississippi State University to a few major campuses in Mississippi, Alabama and Louisiana.
Gopal says the new funding will enable them to tackle a national sales strategy in 2018. The company recently moved into the Greater Starkville Development Partnership's office space for startups in downtown Starkville, allowing them to ramp up operations and begin hiring.
Gopal recounts that the work with Innovate Mississippi was invaluable both for the experience they got pitching to investors and conferences—and the reality check they got in 2015 when they realized they weren't ready for the Seed Fund yet.
Now they're in a better position to handle additional funding, and Gopal says that through Innovate Mississippi he was able to make contact with the Mississippi Development Authority, resulting in a grant that helps them focus on international outreach. (Hiten Patel is co-CEO, focused on Indian operations, where CampusKnot also plans to offer their tool to professors, students and colleges.)
Gopal also notes that CampusKnot is determined to remain a Mississippi company, and that it's incorporated as a Mississippi entity very purposely.
"We made that conscious choice because we really want to show the world that Mississippi can be a leader in education just as it is in other fields—music, agriculture, medicine—that we're innovative," Gopal said. "That's something we wanted to do. Anywhere that we eventually have a subsidiary, it will be owned by the parent company in Mississippi. That will put us on a global map in terms of technology."
His advice to up-and-coming entrepreneurs is to get out of your head and take advantage of resources like Innovate Mississippi, MDA, the MSU eCenter, all of which can help you figure out how to start.
Then the trick is simple… don't stop.
"All you have to do as an entrepreneur is take your first step and then keep going. It only has to work once. Failure teaches you what you didn't do right the first time," Gopal said. "But ultimately everything comes down to 'just go ahead and do it.'"