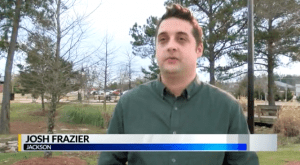 Focusing on legislation designed to combat "brain drain" in Mississippi, WAPT interviewed two local startup CEOs: Bilal Qizilbash, co-founder and CEO of EasyKale Labs LLC in Jackson, and Josh Frazier, CEO of Torrus, based in Rankin County.
The story by WAPT reporter Jade Bulecza asked the CEOs about a bill in the 2019 Mississippi Legislature designed to incentivize local businesses to start up and stay in Mississippi. The bill offers state income tax rebates for businesses that are launched and then remain in the state.
Both companies have worked with Innovate Mississippi a number of ways including consultation, Mississippi Seed Fund applications, and pitch opportunities such as New Venture Challenge and the Company-Investor Spotlight.
You can watch the news story below. Our thanks to WAPT and reporter Jade Bulecza for reaching out to some of our client companies for a comment!