Innovate Mississippi is committed to assisting technology entrepreneurs and emerging companies in our state.
What We Do For Entrepreneurs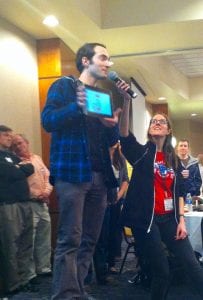 Whether you are developing your business plan or seeking early-stage investment capital, our staff of experienced business and economic development professionals wants to help you find the resources you need to grow your enterprise and create jobs in Mississippi.
How We Assess Startups
Innovate Mississippi uses a rigorous entrepreneurial assessment tool. It contains evaluations to measure a project's entrepreneurial, risk, venture, and business plan "readiness."
Used in conjunction with the Mississippi Angel Investor Network, Mississippi Executive Talent Exchange, and the Entrepreneurial Service Providers Database, our assessment tool helps Innovate Mississippi guide Mississippi entrepreneurs as they follow the path to growing successful businesses.
Who We Focus On
Innovate Mississippi focuses on innovation-based companies with innovative products, processes, materials or business models. We generally do not work with companies in retail services, oil and gas exploration and production franchisees, real estate development, management and investment companies. However; firms will not be disqualified because their customers are in such industries. The Small Business Development Centers and the Mississippi Development Authority have resources to assist entrepreneurs in areas outside the scope of Innovate Mississippi.
The Entrepreneurial Development Process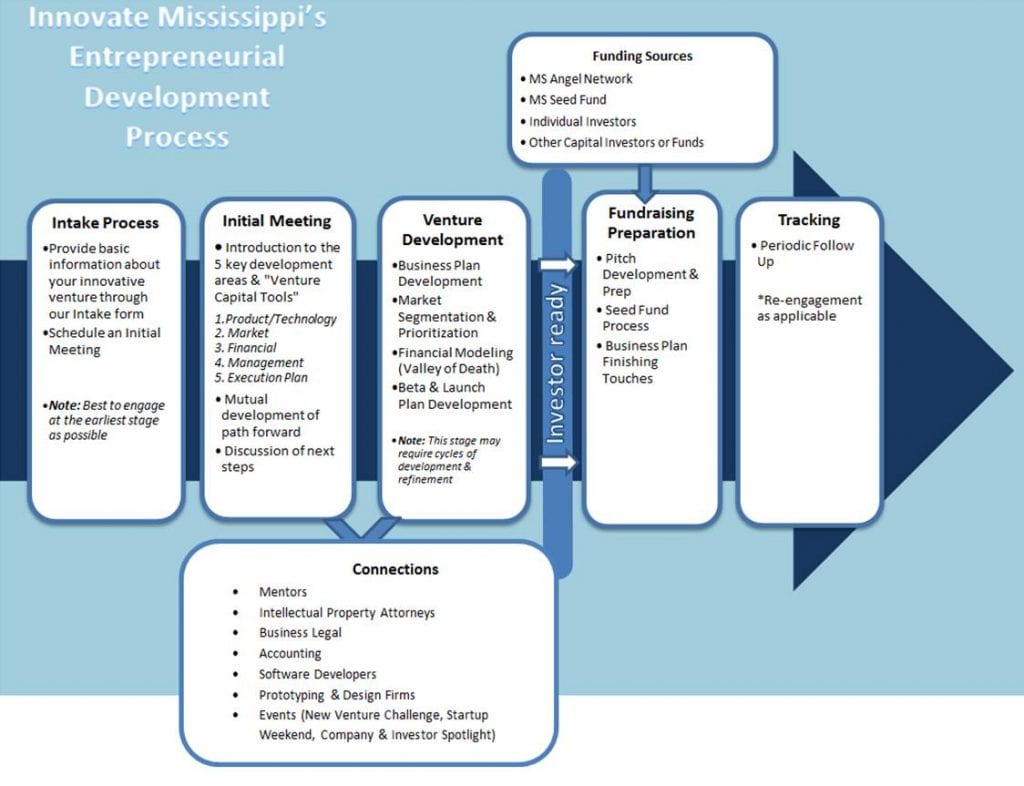 Watch video below, entitled "For Enterpreneurs" to see how Innovate Mississippi assists technology-based startups.
After reviewing your Intake Survey application, we will contact you with next steps.
Program Steps:

• Accepted entrepreneurs will be invited to engage in our Entrepreneur's Journey Program via the AccelerateApp.

• The Innovate Mississippi Entrepreneurial Development team will meet with you during each stage of the Entrepreneur's Journey Program.

• Program steps cover all aspects from proof of concept to business launch

Depending on the required next steps, we will help the entrepreneur by connecting them to the Mississippi Seed Fund, Mississippi Angel Investor Network and Entrepreneurial Service Provider Network or other resources.
* Note: All information shared with Innovate Mississippi via intake form or disclosed in meetings will be kept confidential. We are happy to advise entrepreneurs on Intellectual Property protection if that has not already been secured
'For Entrepreneurs' Webinar
Our CEO, Tony Jeff, recorded this brief webinar to walk you through the high points of our process and give you a better sense of whether you might want to work with us on your startup idea.
---
Entrepreneur Resources:
---
Mississippi Seed Fund
The Mississippi Seed Fund is managed by Innovate Mississippi, providing high-tech, startup companies with access to pre-seed financing, early-stage risk capital and product development capital to stimulate and accelerate the development of high-performance, technology-based business ventures in Mississippi. The Seed Fund consists of the Proof of Concept, Research and Development, and New Technology Business programs.
Click here
to learn more.
---
MS-FAST Program
The MS-FAST Program, led by
Innovate Mississippi
, aims to increase the number of SBIR and STTR proposals from small businesses in Mississippi  leading to an increase in the number of SBIR/STTR awards. The program is supported in part by a grant from the U.S. Small Business Administration (SBA) via its 
FAST partnership program
SBIR
 and 
STTR
 are highly competitive programs that encourage small business to explore their technological potential and provide the incentive to profit from commercialization opportunities. See the 
MS-Fast site
 for more info.
---
Featured Links
---
Recommended Reading