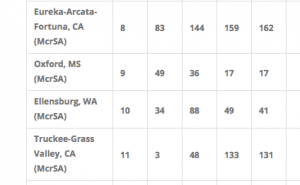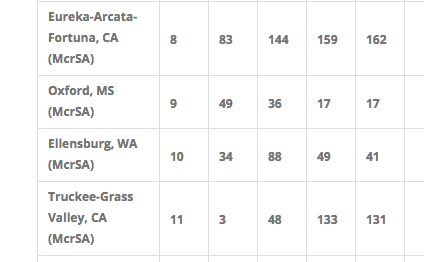 Of the 551 micropolitan areas around the country, Oxford, Miss., ranks #9 in overall economic strength according to Policom Corporation, an independent economic research firm out of Florida.
The annual rankings measure the economic strength of areas that have a city of more than 10,000 people, and fewer than 50,000, as does Oxford in Lafayette County.
Policom measures the consistency of an area's economic grow, looking at factors such as per capital earnings, household earnings, the growth in certain sectors of the economy, and the growth or shrinkage of dollars paid in government assistance.
John Maynard, president and CEO of the Oxford-Lafayette Economic Development Foundation (EDF), noted that Oxford grabbed the highest ranking in the entire South, jumping up from 49th last year. Columbus is second in Mississippi, ranked 108th.
"This is third-party recognition of the economic growth that is happening in Lafayette County. Policom uses a sophisticated process for determining economic strength. Their process is scientific evidence of the positive economic atmosphere that we have had in Oxford for a very long time," Maynard said.
Oxford's EDF is a public-private partnership that works for create investment opportunities, raise per capital income for its citizens and improve quality of life in Lafayette County. The EDF's approach to economic development has focused on encouraging technology startups and entrepreneurship, a focus that Maynard says is paying off for the area.
A full list of the rankings can be found here: http://policom.com/rankings-micropolitan-areas/
[photo credit: Ken Lund]