The COVID-19 pandemic affected most businesses, startups included, in negative ways. But for Raj Ramarao in Mississippi and Alex Kau in Pennsylvania, the pandemic created a moment of opportunity that might not have happened if people weren't stuck at home.
House Bill 1135, passed by the Mississippi Legislature in early 2021 during the height of COVID-19, changed the law, allowing Mississippi residents of legal drinking age to order direct delivery to their homes from stores that sell beer, liquor, and wine.
CEO Ramarao, born in India, immigrated to the United States after he graduated high school. He later attended Duke University where he met co-founder and CFO, Kau. The two remained friends throughout the years and exchanged advice on fundraising strategies, connections with investors, and projects throughout their careers with Fortune 500 companies.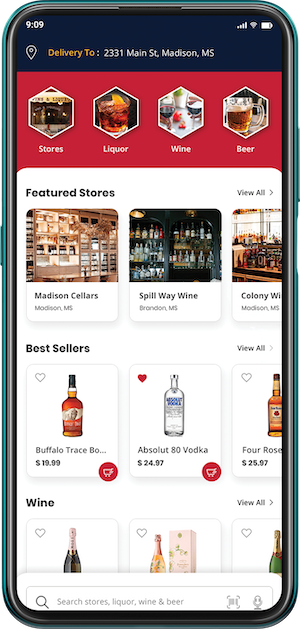 After Ramarao left his position within another startup company he co-founded, he saw news of the law change and hit on the idea for Moonshine Mississippi. Considering their history, Kau's expertise in finance, and common interests in startups, it was a no-brainer when Ramarao presented the idea to Kau. The two meet virtually for their seed-funded joint endeavor but have other team members on the ground in Mississippi.
Moonshine officially launched late November 2021 and has paying clients and customers already — Madison Cellars in Madison, being one of the first. Unlike UberEats and other similar business models within the industry, Ramarao and Kau are launching a more interactive Web and app platform for their customers that they are rolling out during Q1 of 2022. 
"The two-way interaction comes in when customers review products, search availability of unlisted products and purchasing trends, schedule advance deliveries, and react to pricing behaviors, all from the comfort and convenience of their home—24/7," Ramarao said.
Both founders say that working with Innovate Mississippi has been extremely satisfying. The two say Innovate has been instrumental in helping them secure funding and exposure. In 2021, they received a $100,000 Growth award from the Mississippi Seed Fund to help fund marketing and expansion.
"The experience has been amazing. With Innovate Mississippi and just in general, Mississippians that we've dealt with have just been amazing," Kau said. "Their feedback is on target. It's concise. It's relevant. They see so many deals. They give us the feedback that really has molded our business to where it is."
The company's services started just in Madison County but Moonshine is looking to expand into strategically targeted counties in early 2022 with the goal of covering a good portion of the state geographically by the end of the year.

With the focus on expanding, while constantly improving their evolving website and app, the two founders continue to work diligently despite the distance. Throughout their time working together, they have gotten to know each other's families as well.
"With the level of commitment required from a startup, it's no surprise our families have grown closer. We collectively experience the successes and failures together," Ramarao said. The founders recommend this level of commitment to other aspiring entrepreneurs looking to have their own startup companies in addition to good mentors like those at Innovate.
Moonshine Mississippi is online at www.moonshinems.com and their app can be downloaded on the App Store for iPhone users or Google Play for Android.