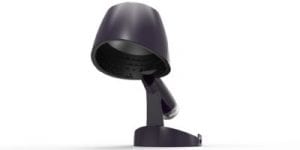 A year after Quantum Flow, Inc. took home Innovative Mississippi's New Venture Challenge grand prize of $3,000 for operating capital, the company is finalizing its first, fully engineered product – the Momentum Dryer.
Martin McCurtis got the idea for his revolutionary hooded hair dryer more than 10 years ago, when his wife's hair dryer filled their small Jackson apartment with heat and humidity on an already insufferable Mississippi summer day.
After an hour of added heat and humidity, he asked if his wife was almost finished. "It should only be another hour," was the response he dreaded, but the one that sparked his greatest idea.
McCurtis wants to change the way people use hooded hair dryers, a technology he says hasn't substantially changed since its inception in 1890. His problems with the conventional hair dryer is its inefficient air and energy flow.
"When hot air is forced down on moist hair, it creates vapor, humidity," McCurtis explained of traditional dryers. "The more humidity that's created, the more the heat is dissipated and weakened, and the longer it takes to dry the hair. That hot air and moisture stay in the hood because heat goes up, the way nature intended it to. Not to mention, hooded hair dryers are blowing hot air and vapor down over the face and neck."
The Momentum Dryer is designed to create an efficient and fluid release of heat and energy by harnessing heat's naturally rising quality.
"We're using up-flow technology to create a more comfortable process," McCurtis explained. "The hot air and vapor will be directed upward – away from the face of the user- which makes it faster because there is a fluid release of excess humidity."
He also believes the faster, less strenuous process will result in an overall health benefit to the skin and scalp compared to more traditional dryers. While he doesn't have the scientific results to prove this claim, McCurtis is pursuing research to prove his theory.
In addition to being "technologically superior," McCurtis said his product will be much more stylish than anything currently on the market. While he plans to market the product to everyone, his primary market is African-American women because the coarse texture of their hair often requires longer drying times.
"African-Americans make up 12 percent of the U.S. population, but they account for almost one-third of all hair and beauty purchases," He said. "That's a serious market footprint. When you look at the fact that only half of that small segment is made up of women, you have to really respect the amount of buying leverage that community represents."
A Mintel study reported the African-American hair care market accounted for $2.7 billion in sales in 2015.
McCurtis is confident that once he begins making the sales rounds with his first commercial units of the Momentum Dryer, it will only be a matter of time before the entire hair care industry feels the impact.