GrowinLocal started when its co-founders, Richard Kostal and Barry Delcambre, decided to connect food producers and consumers via an online app.
They designed the app to fill a gap in the marketplace that's somewhere between sharing your garden with neighbors and setting up a stand at the local farmers' market. In essence, their belief is there's a place in the gig economy for agriculture.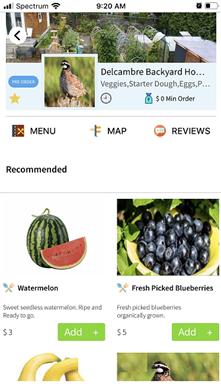 After self-funding the launch and distribution of their software for iOS and Android, GrowinLocal applied for and received a $10,000 "proof-of-concept" award from the Mississippi Seed Fund, which Innovate Mississippi administers.
"As part of our plan with Innovate Mississippi, we're going to launch in two cities—Jackson, Mississippi and Austin, Texas," said Delcambre, a Mississippi native who now lives in Austin. Delcambre is setting up a "pop-up" farmers market that will use the GrowinLocal technology to facilitate transactions. They hope to encourage producers and consumers to connect in person and then continue to transact business on the app.
"[One aspect] of this [marketing event] is making sure people become self-sufficient, turning consumers into producers," Delcambre said. To that end, the event will also feature stations that educate consumers on growing food at home, some of which they could then sell through the platform.
Kostal said that the pop-up will be a fun way to introduce GrowinLocal in Austin, but it's also intensive customer research. They hope to use their Mississippi Seed Fund award to test their theories about the product's viability and make changes or improvements as customers demand them.
Kostal, who lives in Mississippi, said that Innovate Mississippi also helped them connect with Mississippi Development Authority's V-Quad Accelerator, which accepted them for participation this summer. V-Quad is a U.S. Department of Energy-funded initiative to seed and accelerate agriculture and energy startups in Mississippi. Ten teams will compete for five initial awards of $5,000 in seed capital; at the end of the process, V-Quad judges will choose a $10,000 winner and two $7,500 winners using a "Shark Tank"-style competition.
The GrowinLocal founders say they're thankful for all the help from Innovate Mississippi so far and that they're taking the "proof-of-concept" part of their Mississippi Seed Fund grant seriously. They know they need to get customers and producers using the app and then test the assumptions they have in their business plan. Kostal says they have key performance indicators (KPIs) regarding transaction data, deliveries and customer retention that need some real-world testing.
"The proof of concept is supposed to take us through the end of 2021. At the end of this process, that's when we'll know if we have a viable product," Kostal said. "Then hopefully that's when we'll see another significant investment in the technology—even leaner, cleaner, and more efficient."
The GrowinLocal app is available in the Apple and Google app stores. Producers interested in reaching customers through the app can contact the team at www.growinlocal.com.