Glo Cubes began as a student project of Mississippi State University design student Kaylie Mitchell. The assignment was to create a conceptional company that "drew the eye" of potential customers—Mitchell figured something that lit up would definitely draw people's eyes.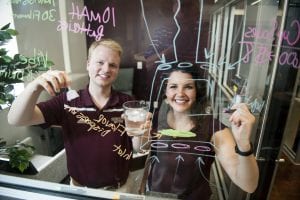 One of her teachers thought the idea was good enough to take to the Mississippi State Entrepreneur Center ("MSU eCenter"). That resulted in a partnership with Hagan Walker, now co-founder and CEO of Vibe, who was brought on as an engineering student to figure out how to make the cubes glow safely when put in contact with liquid. Glo Cubes turned out to be a hit soon after they were introduced.
"Things got kicked off with a video that went viral on Facebook in 2016 and brought in about nine million views," Walker said. Walker and Mitchell founded Vibe to manufacturer and sell Glo Cubes; sales were worldwide by the time they graduated from college.
"We sell directly to a lot of restaurants," Walker said, "It appeals to them because they don't have to turn them on, and the light going out actually prompts them to refill a drink because the cube is no longer wet."
Glo Cubes are also popular for parties and high-end events—and a similar technology now powers "bath bombs" made in partnership with another Mississippi company, Musee Bath. The bath bombs release essential oils into the water and, in so doing, give way to a glowing center—making bath time more relaxing and more stylish. Vibe worked with Innovate Mississippi early on by going through the New Venture Challenge in 2015 and 2016. Walker credits those pitches both as learning experiences and as opportunities to access funding resources.
"When we first started, I was still out in California and Kaylie did the New Venture Challenge," Walker said. "She did that by herself and won second place, and that helped with immediate funding to design some new packaging and that ended up being shipped to 34 countries. After that we competed again in 2016 and won first place."
More recently, Vibe has gone through the Mississippi Seed Fund process, and now has access to cash that can help them, for instance, in a situation where they received a large order (Walker gave Disney as a hypothetical example) that they might otherwise not have been able to fill. Vibe has done two rounds of fundraising, an early series A while Walker and Mitchell were still in college in 2015, and a series B round in late 2017.
In terms of revenue, the company did well in 2017, beating all projections; Walker says he expects to do 4-5 times that revenue in 2018.
Mitchell left the company in 2017; Walker is now partnered with Anna Barker, Vibe's business development officer. They recently returned from market in January 2018, where they are gearing up to launch in 20 states with a new glowing bath toys for kids.
Walker says being in Mississippi is mostly advantageous for his team—he gives particular credit to the MSU eCenter and the resources it offered his team when they were getting off the ground. But, he says, not enough emerging college graduates realize the advantages they have if they stay in Mississippi.
"A lot of people our age comes to the university and get a really good education but no one seems to want to stay and better the state. But there a lot of support for new businesses coming along, a lot of excitement," Walker said. "Overall it's cheaper here and to see if it has legs; if we had been in California we wouldn't have been able to sustain the growth we've had because of the costs out there."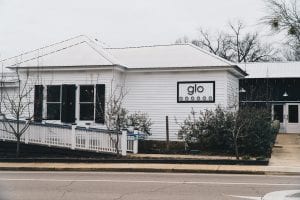 Fortunately, Walker has a plan. In early 2018, Vibe is moving into a new 5,000 square foot downtown Starkville facility that offers room for them to grow—along with 2,000 square feet of "co-lab space" for startups that can't afford full-fledged offices or buildings yet.
"A lot of people graduate and move out of town; this space gives then an opportunity to stay and try things out before they leave," Walker said.
He envisions a community of startups and academics (the dean of the business school plans to rent space) along with events where entrepreneurs can socialize, collaborate and learn more about how to get ahead in business.
And, no doubt, the drinks will glow brightly at all of those events.