Innovate Mississippi has approved Starkville-based CampusKnot for a 2021 Mississippi Seed Fund award. CampusKnot offers a mobile app designed to help professors and teachers promote classroom participation among college and high school students.
The company also added three new angel investors this quarter: Mike Morgan, Huey Ngo and Shaheed Khwaja, who will be active mentors to CEO Rahul Gopal and his team.
Morgan and Ngo are former executives of Bomgar Corporation (now called BeyondTrust), and Khwaja is a leader in online marketing and Web strategy.
"I am excited to join the CampusKnot family as a board member," Ngo said. "I have been very impressed with Rahul Gopal and his team as well as the product that they have built. The breadth of challenges with respect to this space that this solution can help solve is endless. I am very excited for the future of CampusKnot."
In all, CampusKnot has raised nearly $200,000 this year, which Gopal said is earmarked to fund their 2021 growth strategy. In total, the company has raised nearly $750,000.
"Bringing these three guys on board here at such a critical time—as well as raising this money—allows us to put a marketing campaign in place and scale," Gopal said. "There are professors who are searching for a platform like ours to increase participation—increase engagement—and we're ready to bring hundreds of them on board."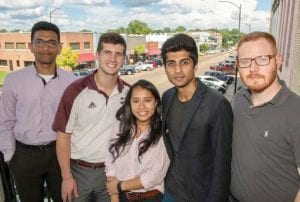 CampusKnot targets professors and teachers looking to use social media-style tools to encourage interaction with and among their students. CampusKnot has customers at the University of Alabama, Louisiana State University, Texas Tech University, and other schools—with department-wide initiatives at the University of Central Florida and the University of Missouri.
Gopal credits both Mississippi State University and Innovate Mississippi with helping the company to find its footing, funding, and its growth path.
"The amount of support and encouragement that you get from organizations and investors in the state of Mississippi is absolutely phenomenal," Gopal says. He says the first round from the Mississippi Seed Fund in 2018 helped them multiply their revenue and cover critical development expenses. CampusKnot has grown revenues every year since.
The Aberdeen School District in Aberdeen, Miss., uses Campusknot throughout its classrooms, and The University of Southern Mississippi's Gulf Coast Campus has licensed use of the product for a multiple-year contract—both contracts signed in 2020.
"Mississippi has allowed us to truly test how technology can impact the lives of students, especially students who may not have the means to spend thousands in technology or software," Vice President of Product and Innovation Ana Gonzalez said.
Campusknot has many users in the Southeast region, but the company noticed an increased acceptance of new technology during the pandemic. As a result, Campusknot decided to polish its product and expand further. Offering its service for free from February 2020 through Aug. 1, the company acquired numerous new users in other parts of the country, particularly in the Midwest and Northeast, in addition to retaining most previous users. The service makes its money through a low subscription rate paid by the students.
For 2021, the goal is growth. With the cash injection and new expertise on the board, Gopal said CampusKnot will roll out a marketing strategy in the spring of 2021 designed to onboard tens of thousands of new users by the Fall 2021 semester. The company will be self-sustaining on recurring revenue at that level, allowing them to scale by reaching more U.S. universities (their early focus is the SEC) and encouraging adoption internationally.
Update: Read more about CampusKnot in the Columbus Dispatch and thanks to writer Tyler Jones for reporting this great news!