Janet Parker serves as the director of business development and marketing at Innovate Mississippi.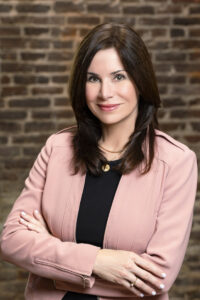 Janet oversees all marketing, public relations and corporate fundraising functions, with the ultimate goal of working with partner organizations and companies to grow Mississippi's innovation ecosystem and, thus, the state's economy.
She's responsible for Innovate Mississippi's direct corporate fundraising, as well as the organization's overall marketing strategy and implementation. She also manages major events and strategic planning to grow the reach of the organization.
Janet produces multiple signature events for Innovate Mississippi, including the Mississippi Innovators Hall of Fame Awards Gala; the annual Conference on Technology Innovation; the annual Legislative Reception and Open House; and regional Discovery Luncheons held around the state.
Janet serves as the managing editor and advertising director for Innovation Report magazine and oversees content creation for Innovate Mississippi's marketing materials, website and social-media channels.
Janet also coaches entrepreneurs during Startup Weekend and other pitch opportunities at Innovate Mississippi events, helping startup business leaders refine their presentation skills.
Before joining Innovate Mississippi, Janet was vice president of public relations for Maris, West & Baker Advertising. Prior to that, she served as a business consultant and communications coach, working with Fortune 500 clients in the United States, Canada and Trinidad.
Janet was host of the Emmy award-winning television show "Mississippi Outdoors" on Mississippi Public Broadcasting. Janet has represented products and services for many companies and industries, with clients such as BancorpSouth, Southern Farm Bureau, the local ESPN radio affiliate, Skinner's GM Superstore and many more. She has appeared in television commercials, radio advertisements and print promotions.
Prior to her career in media and communications consulting, Janet spent 11 years as an award-winning pharmaceutical sales representative, working with one of the largest pharmaceutical manufacturers in the world.
In 2012, Janet was named one of the Top 10 Business Women in Mississippi by the Mississippi Business Journal.
Janet holds a bachelor's degree in business administration with a concentration in marketing from the University of Illinois, Champaign-Urbana. She lives in Madison, Miss., with her son, Isaac, and daughter, Mia.