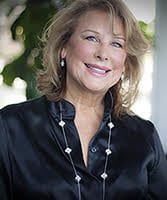 Mary Peavey
President of Peavey Electronics Corporation
Mary Peavey graduated from Mississippi State University with a Bachelor of Arts degree and studied at the Harvard Business School; in 1981, she became one of the first women to complete the HBS Owner/President Management Program. She was awarded the coveted She Rocks "Icon Award" by the Women's International Music Network in 2014. Mary presently serves on the Mississippi Arts Commission's Board of Commissioners.
Mary took the reigns as President of Peavey Electronics after marrying Founder and CEO Hartley D. Peavey, a lifelong Mississippian and fellow MSU graduate. In addition to serving on Boards of Directors in the health care and banking industries, and as an arts advocate for the National Arts Council, Mary served on Governor Haley Barbour's Commission to Restructure Education in Mississippi. In 2009, she was selected to deliver two keynote commencement addresses at the Mississippi University for Women, where she accepted the Medal of Excellence from MUW President Dr. Claudia Limbert. In 2011, the former Miss MSU and homecoming queen returned to her alma mater to deliver the evening commencement address at Mississippi State University.
Throughout her life, Mary has donated her time and talents to furthering arts and education for the benefit of children. She is an active supporter of afterschool programs, and helped make history in 2006 by working to make Mississippi the first state to offer the "Afterschool is Key" car tag, which benefits afterschool programs. She was named to the Board of Directors for the national Afterschool Alliance in 2007, and partnered with the Kennedy Center in Washington, D.C., to bring arts and music to Meridian and Lauderdale County schools.
Mary played a major role in producing the "Mississippi GRAMMY Legacy Celebration," which celebrated the fact that Mississippi has produced more GRAMMY Award winners and nominees per capita than any other state. One of the entertainment industry's most talked-about shows throughout its five-year run, the annual celebration also featured the Peavey Awards and was named "One of the Coolest Events on the Planet" by Vanity Fair in 2008. The work that Mary, Hartley Peavey and Governor Haley Barbour put into this event played a key role in the establishment of the "GRAMMY Museum® Mississippi," which will open in Cleveland, Mississippi in March 2016.
Whether this Mississippi business leader is charting the continued success of Peavey Electronics or sharing her vast experience at a business symposium, Mary Peaveytakes an active role in developing the leaders of tomorrow.